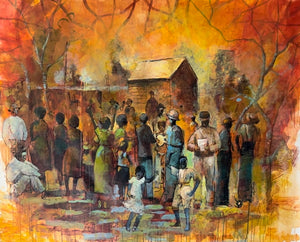 Free at Last (print)
•limited edition giclee print on canvas
•edition size: 19
•image size: 30"x40" with 1.5" mirrored edges
•published 2023
"Free at Last" which commemorates June 19,1865 the day when some 2,000 Union troops arrived in Galveston Bay, Texas. The army announced that the more than 250,000 enslaved black people in the state, were free. That day came to be known as Juneteenth.

Each print is signed by the artist and comes with a Certificate of Authenticity.
Please allow 2-3 weeks for shipping.